Nouvelle ère de moteurs électriques (à flux axial)
Design hyper compact à faible coût
La croissance du marché de la voiture électrique dépasse les attentes et poursuit les tendances

Le moteur électrique et l'instrumentation ont des exigences énormes dans les années à venir

Tout le monde est à la recherche de nouvelles technologies permettant de fabriquer des moteurs électriques:
PETIT, LÉGER, ÉCONOMIQUE, SANS PERTE, OPTIMISÉ pour les systèmes collaboratifs, INDUSTRILISABLE, PERFORMANT-EFFICIENT et ÉCONOMIQUE
Le moteur à flux axial peut fournir plus de couple et de puissance massique en utilisant la même quantité d'énergie (courant)
C'est un fait scientifique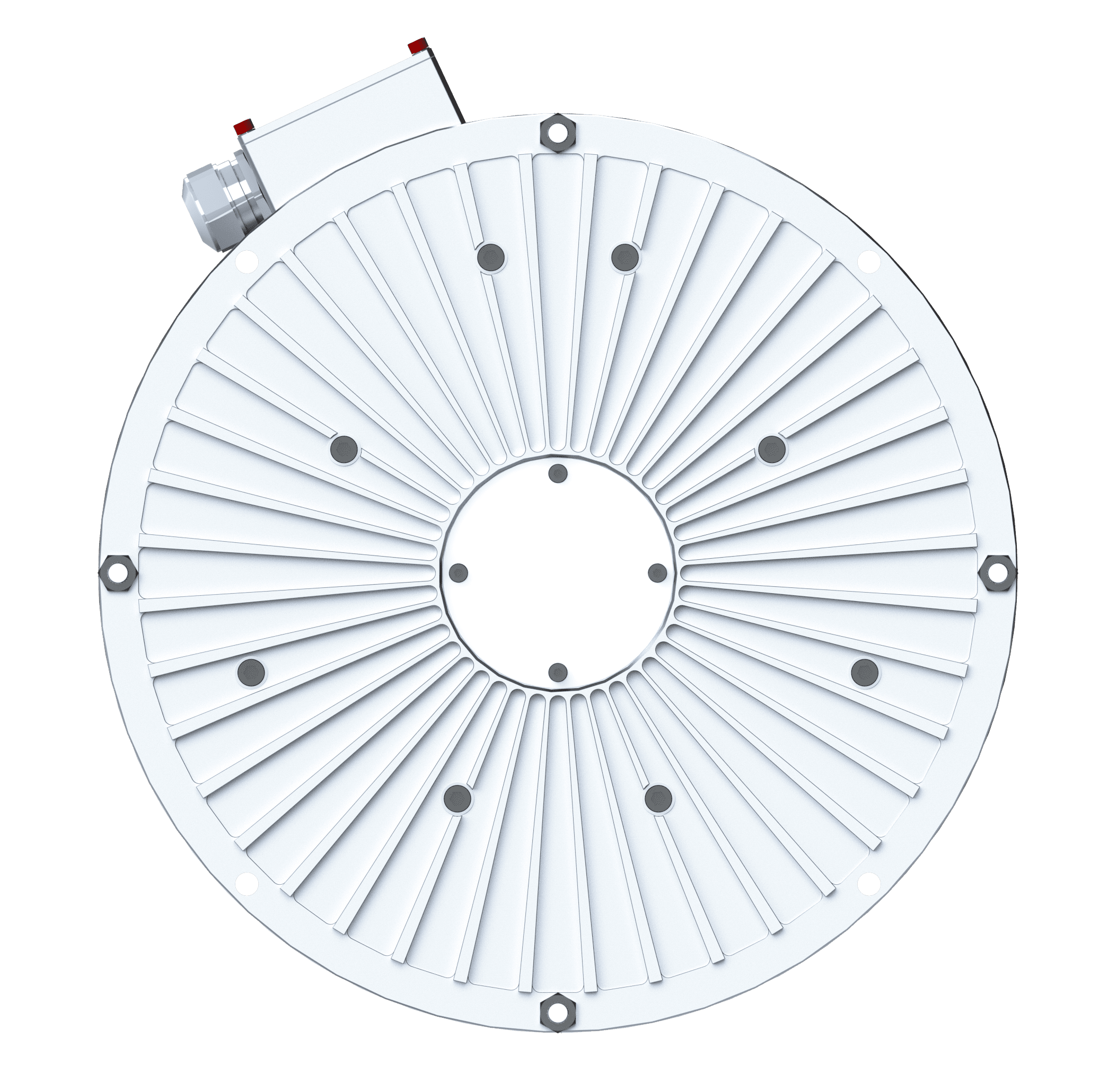 Le moteur à flux axial est mieux que le moteur à flux radial
A Global Mathematical Approach
Let us consider a general case in which a moving charge
dq
is submitted to an Electromagnetic Field (E, B )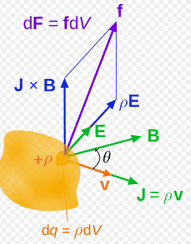 'E'/'0'
B-0
'E'– 'B/'t'
'B'–'0' '0' 'E/'t'
'F'q (E-V-B)
'Fe'S-J-B
This is the (E, B)force acting on the moving part per unit volume
| | |
| --- | --- |
| Field Electromagnetic (Green) exchanges in the Radial Air Gap | Field Electromagnetic (Green) exchanges in the Axial Air Gap |
| | |
In any case of a Cylindrical Electric Machine (either radial or axial topology), the force depends only on the interaction between the magnetic field produced by the rotor and the stator.
Influence of the geometry
Influence of the geometry
of the rotor on the
value of the torque
What are the geometrical conditions that generate the same torque for the 2 geometries? Supposing we use the same
magnetic
materials
(same magnets, same iron…. ) so we have the same
magnetic
pressure
in the air gap on optimized machine.

where

Conclusions on Expression
The geometrical variation generates a higher torque for an axial-flux machine than a radial-one, in other Words, for a given required torque, we can use less magnets and less windings for the axial-flux machine as the magnetic pressure can be diminished.
Case study

The real meaning of this formula, is that For a given Torque
, if we canslightly adapt the axial motor flow, the overall volume and the mass of final machine will be less
than a radial-flux-One, even in cases where radial flow machine are considered better!
Case One

From radial motor to axial motor, if d5′ could be 10 higher, we can achieve L5′ divided by 2,and save 30 volume.

Case Two

From radial motor to axial motor, though d6′ is 50′ higher, we can achieve L6′ divided by 3 even 4,still save 30 volume.
The real Interest of an axial-Flux Machine lies in the fact that its torque produced requires less magnetic volume than a radial-flux machine. The mass of the machine will be lower in most applications! The other global parameter to consider is the centrifugal effect: experimental background and studies show that the range speeds of an axial-flux machine is about 15,000 rpm for a diameter of 300 mm
Global system must be analyzed in order to achieve this improvement, but It worth it! Implementing an axial flux machine over a radial one, even some adjustment may be needed, the outcomes are still significant as the global Mass, the global Volume and the global cost of the system can be dramatically reduced.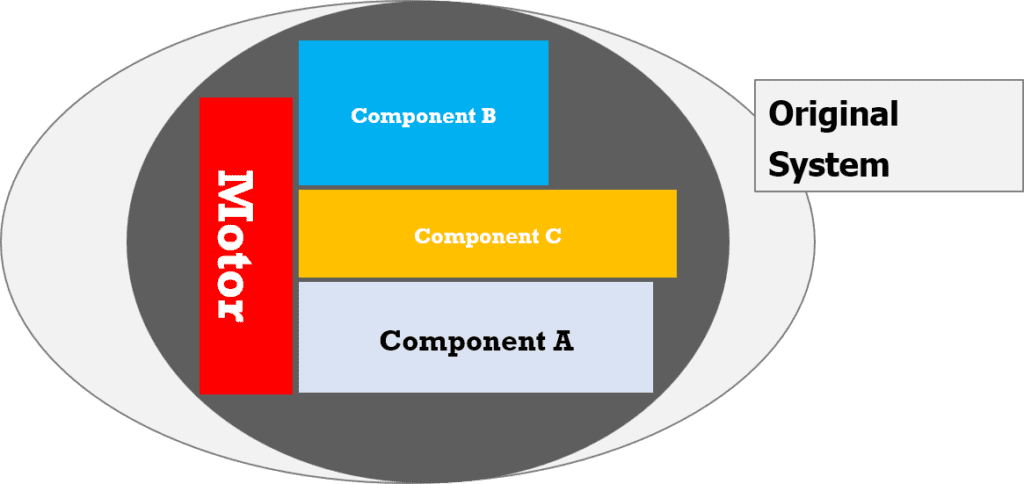 That is why axial flux machine is better than radial flux machine in most cases scientifically speaking.
Moteur à flux axial: Pourquoi si tard?
Malgré les avantages évidents sur le flux axial, le moteur à flux radial occupe actuellement 99% de la part de marché, voici pourquoi: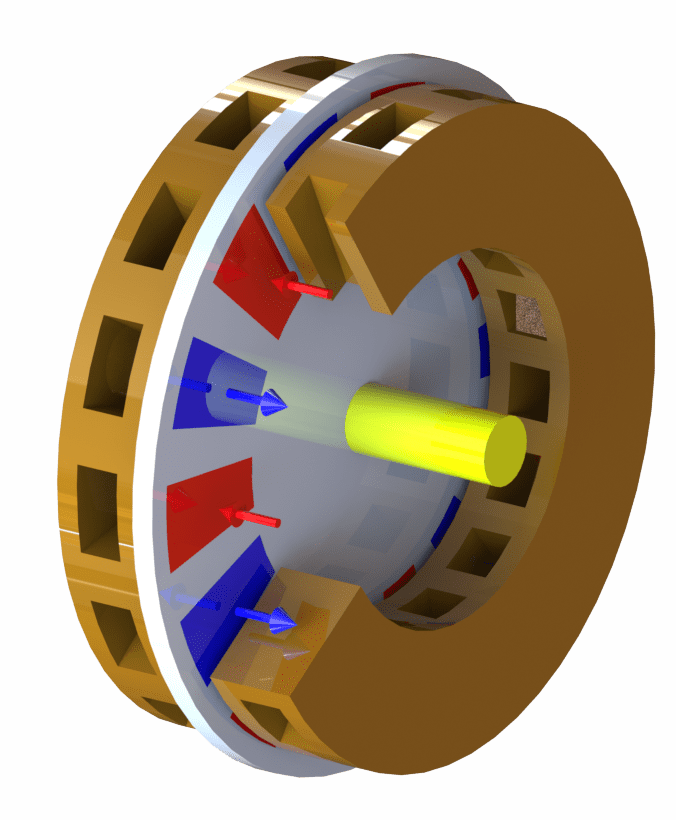 Très grande vitesse linéaire
La demande de résistance mécanique des aimants incorporés peut être élevée
Le rotor chauffe
Système de refroidissement complexe et coûteux, l'aimant peut être démagnétisé
Structure de stator non optimisée
Le stator est difficile à fabriquer à haute cadence sur la chaîne de production

Le processus d'assemblage devrait être facilement industrialisé en production.
Un Avenir d'Avance
NOUS AVONS DES SOLUTIONS
Meilleur rotor
Le rotor à flux axial conventionnel fournit une vitesse linéaire élevée et il chauffe vite, l'ensemble du système devient instable, voire sous-alimenté. La nécessité d'une meilleure conception du rotor est évidente.
Matériau composite
Facile à fabriquer
Pas de chaleur excitée du champ magnétique
Fort et durable

Inspiré de la nature
Maintien des aimants par grille en nid d'abeille
Pas de chaleur, pas de perte !
Vérifié et testé en prototype

Forme naturellement
Les aimants s'intègrent parfaitement dans la grille
Pas de chaleur, pas de démagnétisation
Vérifié en simulation
Meilleur stator
Le stator non optimisé est difficile à fabriquer à haute cadence sur la chaîne de production.

Structure modulaire
Facile à procéder à l'enroulement

Maintenir la performance mécanique

Convient pour la production de masse

Alignement guidé
Supprimer la différence de force magnétique
Aucune perte de puissance
Facilement mise en œuvre et fonctionnement

Deux stators un rotor
Double excitation sur le rotor
Moins d'aimants pour les mêmes performances !
Réduction des coûts